Kadokawa Shoten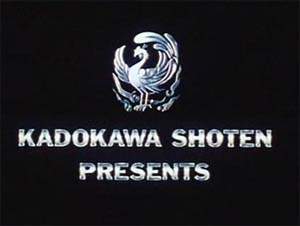 Kadokawa Shoten: Como compañía editora de manga (historietas japonesas), Kadokawa se lanzó al rubro cine a través de filmes de género fantástico. En 2002, con la compra de la antigua Daiei, la denominación se cambió a Kadokawa Daiei Motion Picture Co. Tras la compra del paquete accionario de Nippon Herald Films, ambas compañías se fusionaron para dar lugar a la Kadokawa Herald Pictures.
Filmography

2012
AI TO MAKOTO (16/06/2012) Prod.
2007
MASTERS OF HORROR 2/26 DREAM CRUISE (02/02/2007) Prod.
2006
CHIISAKI YUSHA-TACHI: GAMERA (29/04/2006) Distr.
CHAKUSHIN ARI FINAL (24/06/2006) Prod.
2005


YÔKAI DAISENSÔ (06/08/2005) Prod.
RANPO JIGOKU (05/11/2005) Prod.
2004


CHAKUSHIN ARI (17/01/2004) Prod.


THREE, MONSTER (20/08/2004) Prod.
2002


HONOGURAI MIZU NO SOKO KARA (19/01/2002) Distr.
2001


INUGAMI (27/01/2001) Prod.


OTOGIRISO (27/01/2001) Prod.
2000
KEIZOKU/EIGA Prod.
TAJUU JINKAKU TANTEI SAIKO - AMAMIYA KAZUHIKO NO KIKAN (02/05/2000) Prod.
1999


RINGU 2 (28/07/1999) Prod.
1998


RINGU (31/01/1998) Prod.
1997


PARASAITO IVU (01/02/1997) Prod.
Links
Official Site
Internet Movie DataBase
Google
---