DreamWorks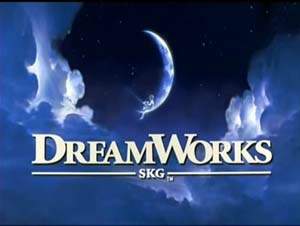 DreamWorks SKG: Productora fundada en 1994 con sede en Glendale, California, por Steven Spielberg, Jeffrey Katzenberg y David Geffen (la sigla SKG es por sus iniciales). La primer película producida por la nueva productora fue el thriller de acción THE PEACEMAKER (El Pacificador-1997). Durante los siguientes DreamWorks ganó tres premios de la Academia consecutivos por filmes como AMERICAN BEAUTY (Belleza Americana-1999), GLADIATOR (Gladiador-2000) y A BEAUTIFUL MIND (Una Mente Brillante-2001). Financieramente la empresa gozó de la rabiosa popularidad de filmes animados como ANTZ (1998), SHREK (2001), SHREK 2 (2004) y otras, convirtiéndose en la principal competidora de la exitosa Pixar.
Filmography

2011
I AM NUMBER FOUR (18/02/2011) Prod.
COWBOYS & ALIENS (29/07/2011) Prod.
FRIGHT NIGHT (19/08/2011) Prod.
2009


UNINVITED, THE (30/01/2009) Prod. - Distr.
TRANSFORMERS: REVENGE OF THE FALLEN (26/06/2009) Prod.
LOVELY BONES, THE (11/12/2009) Distr.
2008
RUINS, THE (04/08/2008) Distr.
2007


DISTURBIA (13/04/2007) Prod.


TRANSFORMERS (04/07/2007) Prod.


SWEENEY TODD: THE DEMON BARBER OF FLEET STREET (21/12/2007) Prod.
2005


WAR OF THE WORLDS (29/06/2005) Prod.
ISLAND, THE (22/07/2005) Prod.
RED EYE (19/08/2005) Distr.
2004


RING 2, THE Prod.
2002


RING, THE (02/10/2002) Prod. - Distr.
TAKEN (02/12/2002) Prod.
2001
CURSE OF THE JADE SCORPION, THE Prod.
1999
GALAXY QUEST Prod.
IN DREAMS (15/01/1999) Distr.
1997


PEACEMAKER, THE (26/09/1997) Prod. - Distr.
Links
Official Site
Internet Movie DataBase
Google
---