Selmer Jackson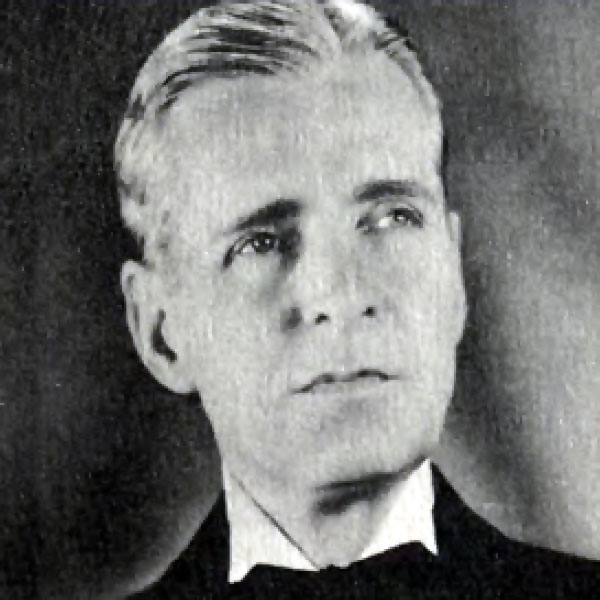 Biografía

Nombre verdadero, alternativos
: Selmer Adolph Jackson
Nacimiento
:
7 de Mayo
de 1888 (Lake Mills, Iowa, USA)
Fallecimiento
:
30 de Marzo
de 1971 (Burbank, California, USA) [Ataque Cardíaco]
Buscar tumba

Selmer Jackson debuta en el cine mudo, con SUPREME PASSION (1921). A lo largo de su carrera interpretó gran cantidad de roles, siéndole encargado con frecuencia papeles de autoridad, como jueces, fiscales, comisionados, militares. Su presencia fue usual en películas clase B de las series de Charlie Chan, Perry Mason, El Halcón y Boston Blackie y no se circunscribe a un solo estudio, variando de las majors (MGM, RKO, Warner) y las de poverty row (Monogram, Republic). Su última película fue THE GALLANT HOURS (Los Tigres del Mar-1960). Participó en algunas series de TV como invitado, como ANNIE OAKLEY, THE ADVENTURES OF RIN TIN TIN (Las Aventuras de Rin Tin Tin) y BONANZA.
---
Ver biografías disponibles en la base de datos
:
A
B
C
D
E
F
G
H
I
J
K
L
M
N
O
P
Q
R
S
T
U
V
W
X
Y
Z

Filmografía parcial

Créditos actorales --<>-- Buscar carátulas de películas con Selmer Jackson
All -- Movies -- TVmovie-Video -- TV Episodes
-
ALFRED HITCHCOCK HOUR 2/39 STARRING THE DEFENSE (1963) .... Capellán
-
ALFRED HITCHCOCK PRESENTS 06/223 SELF DEFENSE (1961) .... Clérigo
-
ATOMIC SUBMARINE, THE (1959) .... Alte. Terhune
-
ALFRED HITCHCOCK PRESENTS 04/137 THE DIAMOND NECKLACE (1959) .... Clérigo
-
LOST MISSILE, THE (1958) .... Secretario de Estado
-
SUPERMAN 4/074 BLACKMAIL (1956) .... Comisionado
-
DEMETRIUS AND THE GLADIATORS (1954) .... Senador
-
SUPERMAN 2/028 JET ACE (1953) .... Gen. Summers
-
SUDDEN FEAR (1952) .... Dr. Van Roan
-
SUPERMAN 1/015 DOUBLE TROUBLE (1952) .... Cnel. Jake Redding
-
CAPTAIN VIDEO, MASTER OF THE STRATOSPHERE (1951) .... J.R. Wade
-
NO MAN OF HER OWN (1950) .... Ministro
-
CRIME DOCTOR'S DIARY (1949) .... Guardián
-
MIGHTY JOE YOUNG (1949) .... Juez
-
ALASKA PATROL (1949) .... Capt. Wright
-
COBRA STRIKES, THE (1948) .... Dr. Keating
-
GENTLEMAN FROM NOWHERE, THE (1948)
-
PITFALL (1948) .... Ed Brawley
-
SEALED VERDICT (1948) .... Dr. Bossin
-
BLONDE ICE (1948) .... Ed Chalmers, Fiscal de Distrito
-
13TH HOUR, THE (1947) .... Juez Collins
-
HIGH WALL (1947) .... Insp. Harding
-
PRETENDER, THE (1947) .... Charles Lennox
-
BOSTON BLACKIE AND THE LAW (1946) .... Warden Lund
-
DANGEROUS MONEY (1946) .... Doctor de a Bordo
-
MYSTERIOUS INTRUDER (1946) .... Dr. Connell
-
SHOCK (1946) .... Dr. Blair
-
TIME OF THEIR LIVES, THE (1946) .... Curador
-
GLASS ALIBI, THE (1946) .... Dr. Lawson
-
FRENCH KEY, THE (1946) .... Walter Winslow
-
ROYAL MOUNTED RIDES AGAIN (1945) .... Supt. MacDonald
-
CARIBBEAN MYSTERY, THE (1945) .... Dr. Herbert Merryman
-
CIRCUMSTANTIAL EVIDENCE (1945) .... Guardián
-
DESTINY (1944) .... Guardián
-
NIGHT OF ADVENTURE, A (1944) .... Oficial de Washington
-
FALCON IN DANGER, THE (1943) .... Oficial del Aeropuerto
-
ADVENTURES OF THE FLYING CADETS (1943) .... Prof. Mason (ep. 11-13)
-
FALCON TAKES OVER, THE (1942) .... Laird Burnett
-
MADAME SPY (1942) .... Harrison K. Woods
-
POWDER TOWN (1942) .... Mr. Tuttle
-
SABOTEUR (1942) .... Jefe del FBI
-
SECRET AGENT OF JAPAN (1942) .... Capitán
-
SECRET CODE, THE (1942) .... May. Henry Barton
-
STRANGE CASE OF DR. RX, THE (1942) .... Juez
-
HERE COMES MR. JORDAN (1941) .... Reportero
-
DATE WITH THE FALCON, A (1941) .... Mr. Wallis, Experto en Diamantes
-
DICK TRACY VS. CRIME INC. (1941) .... Oficial (ep. 11)
-
PAPER BULLETS (1941) .... Fiscal de Distrito
-
INTERNATIONAL LADY (1941) .... Coronel
-
APE, THE (1940) .... Dr. McNulty
-
BRIGHAM YOUNG (1940) .... Caleb Kent, Padre de Jonathan
-
GREEN HORNET, THE (1940) .... Fiscal de Distrito (ep. 4, 10)
-
HONEYMOON DEFERRED (1940) .... Frederick Johnson
-
MURDER IN THE AIR (1940) .... Capt. Riddell, Médico del Hospital Naval
-
QUEEN OF THE MOB (1940) .... Frederick Smith
-
CONFESSIONS OF A NAZI SPY (1939) .... Agente de Aduana
-
ESPIONAGE AGENT (1939) .... Instructor
-
PRIVATE DETECTIVE (1939) .... Simmy Sanger [como Selmar Jackson]
-
SOCIETY LAWYER (1939) .... Fiscal de Distrito
-
CALLING ALL MARINES (1939) .... Cnel. C.B. Vincent
-
CHASER, THE (1938) .... Juez
-
FOUR MEN AND A PRAYER (1938) .... Capitán del Yate
-
MISSING GUEST, THE (1938) .... Frank Baldrich
-
THIRTEENTH MAN, THE (1937) .... Andrew Baldwin, Editor del Globe Times
-
CASE OF THE STUTTERING BISHOP, THE (1937) .... Victor Stockton
-
CHARLIE CHAN AT THE OLYMPICS (1937) .... Wright, Comandante del Buque
-
JUNGLE JIM (1937) .... Abogado Tyler (ep. 1) [como Selmar Jackson]
-
WESTLAND CASE, THE (1937) .... Inspector
-
REPORTED MISSING (1937) .... Fleming
-
ACE DRUMMOND (1936) .... William Meredith Sr.
-
CHARLIE CHAN AT THE OPERA (1936) .... Hudson, un Periodista
-
CHARLIE CHAN AT THE RACE TRACK (1936) .... J.L. Lansing, Secretario del Hipódromo
-
REVOLT OF THE ZOMBIES (1936) .... Oficial
-
ROBINSON CRUSOE OF CLIPPER ISLAND (1936) .... Sr. Caufield, alias H.K.
-
BRIDGE OF SIGHS (1936) .... Alan Adams, Abogado Defensor
-
ACCUSING FINGER, THE (1936) .... Médico
-
GRAND EXIT (1935) .... Cope, Abogado
-
GREAT HOTEL MURDER, THE (1935) .... Boletero
-
MURDER MAN, THE (1935) .... Tte. White, Experto en Balística
-
DEFENSE RESTS, THE (1934) .... Duffy
-
FOG OVER FRISCO (1934) .... Anunciador de Radio
-
MURDER IN THE CLOUDS (1934) .... Anunciante de Radio (voz)
-
DOCTOR X (1932) .... Willard Keefe, Editor del Daily World (Nocturno)
-
MOUTHPIECE, THE (1932) .... Oficial de la Prisión
Links externos