Charles Bronson
Haz un click para ver la imagen alternativa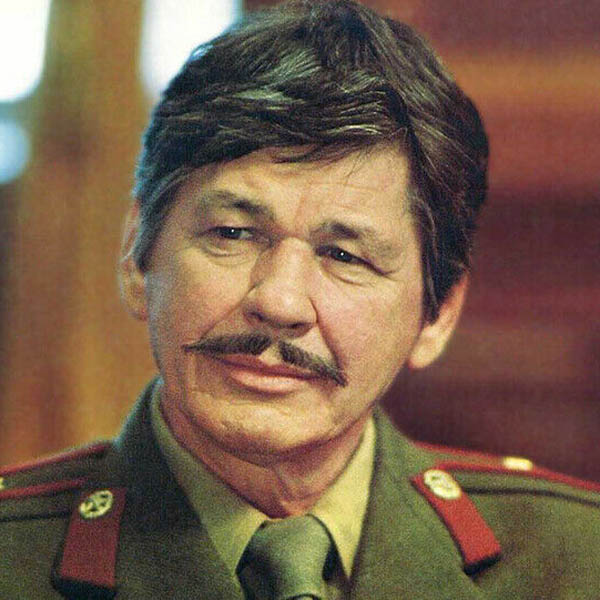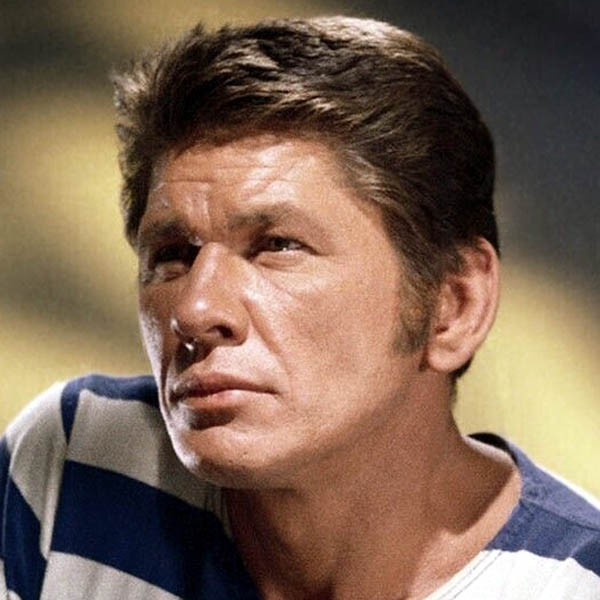 Biografía

Nombre verdadero
: Charles Dennis Buchinsky
Nacimiento
:
3 de Noviembre
de 1921 (Ehrenfield, Pennsylvania, USA)
Fallecimiento
:
30 de Agosto
de 2003 (Los Angeles, California, USA) [Neumonía]
Buscar tumba

Luego de realizar trabajos de diversa índole comenzó en cine a principios de los años cincuenta, con el nombre de Charles Buchinski, en pequeños roles en películas tales como YOU'RE IN THE NAVY NOW (Disloque a Bordo-1951), HOUSE OF WAX (Museo de Cera-1953) y VERA CRUZ (Veracruz-1954) entre otras. Luego de protagonizar la violenta MACHINE GUN KELLY (Kelly, El Ametralladora-1958) comenzó a ser reconocido por su inconfundible estilo, y su reputación se cimentó gracias a excelentes actuaciones en los films THE MAGNIFICENT SEVEN (Siete Hombres y un Destino-1960), THE GREAT ESCAPE (El Gran Escape-1963) y sobre todo la exitosísima THE DIRTY DOZEN (Doce del Patíbulo-1967), que le abrió las puertas del mercado europeo. Allí logró enorme suceso con sus papeles en ADIEU L'AMI (Adiós al Amigo-1968) con Alain Delon y L'UOMO DALLE DUE OMBRE/COLD SWEAT (Los Visitantes de la Noche-1971), y a su regreso a los Estados Unidos alcanzó su máxima consagración con la saga del Sr. Paul Kersey, un hombre sediento de venganza que comenzó con DEATH WISH (El Vengador Anónimo-1974) y se extendió en cuatro películas más en las décadas siguientes. En su filmografía también descollan FOUR FOR TEXAS (Cuatro Por Texas-1963), VILLA RIDES! (Villa Cabalga-1968), CHATO'S LAND (Renegado Vengador-1972), HARD TIMES (El Peleador Callejero-1975), CABOBLANCO (Cabo Blanco-1981) y MURPHY'S LAW (Murphy el Implacable-1986).
---
Ver biografías disponibles en la base de datos
:
A
B
C
D
E
F
G
H
I
J
K
L
M
N
O
P
Q
R
S
T
U
V
W
X
Y
Z

Filmografía parcial

Créditos actorales --<>-- Buscar carátulas de películas con Charles Bronson
All -- Movies -- TVmovie-Video -- TV Episodes
-
DEATH WISH V: THE FACE OF DEATH (1994) .... Paul Kersey
-
MESSENGER OF DEATH (1988) .... Garret Smith
-
ASSASSINATION (1987) .... Jay Killian
-
ACT OF VENGEANCE (1986) .... Jock Yablonski
-
TEN TO MIDNIGHT (1983) .... Leo Kessler
-
TELEFON (1977) .... May. Grigori Borzov
-
WHITE BUFFALO, THE (1977) .... Wild Bill Hickok, James Otis
-
FROM NOON TILL THREE (1976) .... Graham Dorsey
-
BREAKHEART PASS (1976) .... John Deakin
-
VALDEZ, IL MEZZOSANGUE (1973) .... Chino Valdez
-
CHATO'S LAND (1972) .... Pardon Chato
-
MECHANIC, THE (1972) .... Arthur Bishop
-
SOLEIL ROUGE (1972) .... Link Stuart
-
DE LA PART DES COPAINS (1970) .... Joe Martin, alias Joe Moran
-
PASSAGER DE LA PLUIE, LE (1969) .... Cnel. Harry Dobbs
-
BATAILLE DE SAN SEBASTIAN, LA (1968) .... Teclo
-
C'ERA UNA VOLTA IL WEST (1968) .... el Hombre de la Armónica
-
VILLA RIDES (1968) .... Rodolfo Fierro
-
FUGITIVE 4/107 THE ONE THAT GOT AWAY (1967) .... Ralph
-
GUNS OF DIABLO (1965) .... Linc Murdock
-
TV Serie: TRAVELS OF JAIMIE McPHEETERS, THE (1963-1964) .... Linc Murdock
-
4 FOR TEXAS (1963) .... Matson
-
TV Serie: EMPIRE (1962-1963) .... Paul Moreno
-
ALFRED HITCHCOCK PRESENTS 07/247 THE WOMAN WHO WANTED TO LIVE (1962) .... Ray Bardon
-
MASTER OF THE WORLD (1961) .... John Strock
-
THUNDER OF DRUMS, A (1961) .... Of. Hanna
-
TWILIGHT ZONE 3/066 TWO (1961)
-
ONE STEP BEYOND 3/77 THE LAST ROUND (1961) .... Yank Dawson
-
MAGNIFICENT SEVEN, THE (1960) .... Bernardo O'Reilly
-
TV Serie: MAN WITH A CAMERA (1958-1960) .... Mike Kovac
-
SHOWDOWN AT BOOT HILL (1958) .... Luke Welsh
-
RUN OF THE ARROW (1957) .... Búfalo Azul
-
JUBAL (1956) .... Reb Haislipp
-
ALFRED HITCHCOCK PRESENTS 01/020 AND SO DIED RIABOUCHINSKA (1956) .... Dtve. Krovitch
-
ALFRED HITCHCOCK PRESENTS 01/025 THERE WAS AN OLD WOMAN (1956) .... Frank Bramwell
-
APACHE (1954) .... Hondo [como Charles Buchinsky]
-
DRUM BEAT (1954) .... Kintpuash, alias Capitán Jack
-
RIDING SHOTGUN (1954) .... Pinto [como Charles Buchinsky]
-
VERA CRUZ (1954) .... Pittsburgh [como Charles Buchinsky]
-
HOUSE OF WAX (1953) .... Igor [como Charles Buchinsky]
-
DIPLOMATIC COURIER (1952) .... Bronson
-
RED SKIES OF MONTANA (1952) .... Neff
-
MOB, THE (1951) .... Joe, un Estibador
-
PEOPLE AGAINST O'HARA, THE (1951) .... Angelo Korvac
Links externos