Edición en DVD
Heat: Special Edition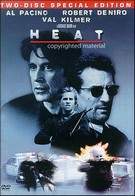 Pantalla
: 2.35:1
Idioma
: Inglés-Francés
Subtítulos
: Inglés-Español-Francés
Código
: 28919
Sello
: Warner Home Video
Lanzamiento
: 22/02/2005
Extras
:
Disc One
Commentary by Writer/Producer/Director Michael Mann
3 Theatrical Trailers
Disc Two
11 Additional Scenes 5 New Making Of Documentaries:
- True Crime: Recalling the real-life Chicago cop and criminal whose exploits inspired the movie
- Crime Stories: The screenplay's 20-year history and how the movie finally got greenlit.
- Into the Fire: Filming in L.A., how the cast trained for their roles, shooting the climatic downtown heist and post-production.
- Pacino and DeNiro: The Conversation: Anatomy of this historic on-screen showdown.
- Return to the Scene of the Crime: Revisiting the film's real-life L.A. locations 10 years later.
Warner's Best Crimes & Dramas Collection
Pantalla
: 1.85:1
Idioma
: Inglés-Francés
Subtítulos
: Inglés-Español-Francés
Código
: 32961
Sello
: Warner Home Video
Lanzamiento
: 05/07/2005
Extras
:
Heist
Theatrical Trailer
Heat
3 Theatrical Trailers
L.A. Confidential
3 Behind-the-Scenes Documentaries
Cast/Creator Interviews
Director Curtis Hanson's Photo Pitch
L.A. Confidential Map Tour
Music Only Track (5.1)
Production Notes
Theatrical Trailer & TV Spots
Swordfish
Commentary by Director Dominic Sena
The Making of Swordfish Documentary
The Effects in Focus Documentary
2 Alternate Endings
Theatrical Trailer