20 MILLION MILES TO EARTH (1957)
Títulos en español
:
-
BESTIA DE OTRO PLANETA, LA
(Argentina)
Dirigida por
:
Nathan Juran
Protagonizada por
:
William Hopper
Joan Taylor
Frank Puglia
John Zaremba
Thomas B. Henry
Estudios
:
Morningside
(Prod.)
Columbia
(Distr.)
País
:
EE.UU.
Estreno
: Junio de 1957
Duración
: 82'
Género
:
C. ficcion

DVD
: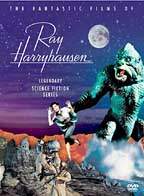 1.
Ray Harryhausen Science Fiction 5 Pack Giftset
Sony Pictures Home Entertainment (30/11/2004)
2.
Ray Harryhausen Collection: 20 Million Miles to Earth
Sony Pictures Home Entertainment (20/05/2003)
Títulos alternativos:
- BEAST FROM SPACE, THE (EE.UU.)
- GIANT YMIR, THE (EE.UU.)
- DES MILLIONS DE KILOMETRES DE LA TE, A (Francia)

Reseña Cinefania.com

Reseña: Una nave espacial regresa de Venus trayendo una pequeña criatura que rápidamente se desarrolla hasta convertirse en un monstruo de dimensiones importantes. Nueva oportunidad del lucimiento de los efectos de Ray Harryhausen. [Cinefania.com]
Ficha Técnica

Link Externos

http://www.pasadizo.com/r.jsp?m=peliculas&ext=2&cod=17...
http://www.monstrula.de/filme/bestieausdemweltenraum/b...
http://www.bcult.it/scheda.asp?Id=6432
---
Allmovie
Amazon
Bittorrent
Ebay
Google Reviews
Imdb
Metacritic
MRQE
RottenTomatoes
Wikipedia
YouTube
---
Agregar un link