TIGER WOMAN, THE (1944)
Títulos en español:
- DIOSA BLANCA, LA (Argentina)
- MUJER TIGRE, LA (España)
Títulos alternativos:
- PERILS OF THE DARKEST JUNGLE [REEST] (EE.UU.)
- TIGERKÖNIGIN, DIE (Alemania)
- JUNGLE GOLD [TV] (EE.UU.)
Prod/Distr: Republic
País: EE.UU.
Duración: 196'
Fecha de Estreno: 27 de Mayo de 1944
Estreno en Argentina: 3 de Junio de 1945


Reseña Cinefania.com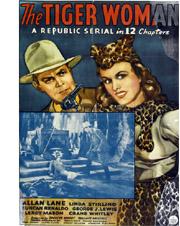 Comprar DVD (subtitulos en castellano)

Reseña: El espacio de la Mujer Tigre (Linda Stirling) y sus guerreros se ve amenazado por una pandilla de malhechores con ambición de petróleo. El representante de una compañía petrolífera (Allan Lane) da una mano a la protagonista para rechazar la cruenta amenaza.
Episodios:
1- THE TEMPLE OF TERROR
2- DOORWAY TO DEATH
3- CATHEDRAL OF CARNAGE
4- ECHO OF ETERNITY
5- TWO SHALL DIE
6- DUNGEON OF THE DOOMED
7- MILE-A-MINUTE MURDER
8- PASSAGE TO PERIL
9- CRUISE TO CREMATION
10- TARGET FOR MURDER
11- THE HOUSE OF HORROR
12- TRIUMPH OVER TREACHERY
Feature version: En 1966 la TV emitió una versión editada, titulada JUNGLE GOLD.


Créditos técnicos
Reparto
Allan Lane
... Allen Saunders
Linda Stirling
... Rita Arnold (La Diosa Blanca)
Duncan Renaldo
... José Delgado
George J. Lewis
... Morgan
LeRoy Mason
... Fletcher Walton
Crane Whitley
... Tom Dagget
Robert Frazer
... Ramgah, el Sumo Sacerdote
Rico De Montez
... Tegula
Stanley Price
... Mack, Empleado de Dagget
Nolan Leary
... Capt. Scott (ep. 9)
Kenne Duncan
... Gentry, un Secuaz (ep. 7, 11)
Tom Steele
... Secuaces (ep. 3, 7, 12)
Créditos técnicos
Spencer Bennet
Dirección
Wallace Grissell
Dirección
Links externos